4. Workshop "Sensorik 4.0"
Date, Type of contribution, Location:
,
Events at IMMS
,
IMMS, in Ilmenau
Event:
"Linux-basierte echtzeitfähige Sensorsysteme", Auftakt zu vier kostenfreien Sensorik-4.0-Workshops 2018 zur schrittweisen Einführung von Digitalisierungslösungen: 08.03.2018 am IMMS.
Description:
Um nachrüstbare Sensoren über Standard- oder individuelle Schnittstellen in vorhandene Maschinen und Anlagen zu integrieren, eignen sich eingebettete Linux-Systeme aufgrund ihrer Vielseitigkeit, der Verfügbarkeit unterschiedlicher Leistungsklassen, vielfältiger Möglichkeiten der Signalverarbeitung und nicht zuletzt ihrer möglichen Echtzeitfähigkeit. Ebenso kann man mit einem Linux-System die Sensorik mit dem Internet der Dinge über ein IoT-Gateway verbinden und damit übergeordnete Ebenen, wie z.B. Cloud-Systeme, adressieren.
Im Workshop werden zunächst Grundlagen zu Echtzeit-Linux auf eingebetteten Systemen inklusive rechtlicher Rahmenbedingungen vorgestellt. Danach wird näher auf die Anwendungsentwicklung echtzeitfähiger Applikationen eingegangen und die Workshop-Teilnehmer bei ersten eigenen Schritten inklusive Tests und Latenzmessungen betreut. Ein anschließender Block zur Sensoranbindung und -signalverarbeitung mit Echtzeit-Linux ermöglicht es, eigene Echtzeit-Sensor-Applikationen zu übersetzen, aufzuspielen und zu testen. Darüber hinaus wird ein Ausblick auf Echtzeit-Kommunikation am Beispiel Time Sensitive Networking (TSN) gegeben.
Fortgesetzt werden soll die Workshop-Reihe des IMMS in seiner Rolle als "Modellfabrik Migration" des Mittelstand-4.0-Kompetenzzentrums Ilmenau mit weiteren Angeboten im Mai, August und November zu den Themen Vernetzte Funksensorik mit Cloud-Anbindung, Sensoren als Industrie-4.0-Komponenten und Sensordatenverarbeitung in der Cloud. Termine, Programme und Anmeldewege der kostenlosen, vom Bundesministerium für Wirtschaft und Energie (BMWi) geförderten Angebote werden jeweils sechs Wochen vorher auf den Webseiten des IMMS und des Kompetenzzentrums bekanntgegeben.
Related content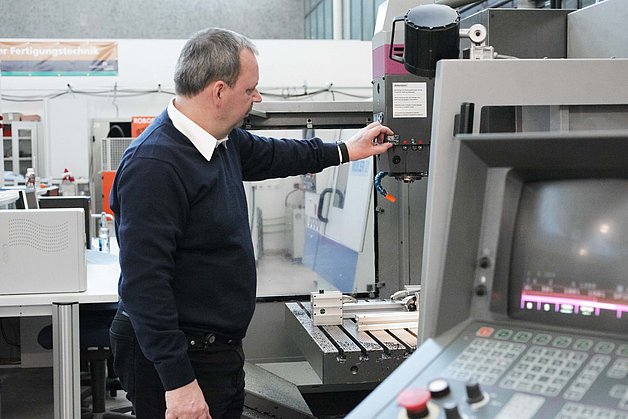 Project
Under the name "Smart Sensor Systems Model Factory" we are supporting enterprises in their gradual adoption of Industry 4.0 technology.
---
Contact
Back