Ramelow besucht "Mittelstand 4.0-Kompetenzzentrum Ilmenau" am IMMS alias "Modellfabrik Migration"
Sommertour durch Digitalisierungsthemen – dritte Woche #ZukunftThüringen startet am IMMS
16.07.2018. Thüringens Ministerpräsident Bodo Ramelow startete heute mit seinem Besuch am IMMS in Ilmenau in die dritte Woche seiner Sommertour, die unter dem Motto #ZukunftThüringen steht und das Zusammenspiel von Unternehmen, Hochschulen und wirtschaftsnahen Forschungsinstituten bei der Digitalisierung im Thüringer Mittelstand beleuchtet. Das IMMS ist einer von fünf Thüringer Akteuren im "Mittelstand 4.0-Kompetenzzentrum Ilmenau" (M4.0). Dieses liefert mit praxisnahen Demonstrations- und Umsetzungsprojekten Digitalisierung zum Anfassen und unterstützt Thüringer Unternehmen dabei, Lösungen für konkrete Probleme in den Betrieben umzusetzen.
Digitalisierung zum Anfassen
Ramelow wurden verschiedene Demonstratoren in der "Modellfabrik Migration" am IMMS präsentiert. Mit ihnen wird greifbar, wie sich Prozesse in bestehenden Maschinenparks kosteneffizient durch nachrüstbare vernetzte Sensoren und Cloud-Lösungen optimieren lassen und damit für die steigende Nachfrage an kundenspezifischen Produkten und Dienstleistungen fit gemacht werden können. "Digitalisierung ist hier nicht nur ein Hebel für effizientere Abläufe, die man mit einer Vernetzung von Daten erreichen kann," so Ramelow. "Man muss auch aus einer anderen Perspektive auf Vernetzung schauen: Gerade für die Thüringer Wirtschaft mit vorrangig kleinen und mittelständischen Unternehmen bietet die Digitalisierung die Chance, ihre Kräfte noch mehr als bisher in Wertschöpfungsnetzwerken zu bündeln, um im internationalen Wettbewerb zu bestehen. Die Arbeit des Kompetenzzentrums ist dafür genau richtig angesiedelt."
Eine weitere Perspektive, die das Kompetenzzentrum für Akteure des Thüringer Mittelstands aufzeigt, begutachtete Ramelow durch eine Datenbrille. Sie ist Teil einer Augmented-Reality-Lösung, welche ihre Umgebung erfasst, bewertet und diese um Daten erweitert, die dem Nutzer umgebungsabhängig angezeigt werden. "Damit bekommen Unternehmen auch eine gute Sicht auf einen Teil der Arbeitswelt 4.0," so Ramelow weiter. "Wenn Fachkräfte in der Produktion mit Hilfe virtueller Objekte sehen können, wo und was genau in einer Anlage geschieht, kann das ihre Arbeit wesentlich erleichtern."
Migration von Digitalisierungslösungen – Schritt für Schritt mehr Daten durch vernetzte Sensorik
Allein in der "Modellfabrik Migration" am IMMS wurden seit 2016 insgesamt 3002 Unternehmensvertretern in verschiedenen Veranstaltungen konkrete Lösungsansätze an die Hand gegeben, mit denen sich Industrie-4.0-Technologien zur Verbesserung von Anlagen und Prozessen einführen lassen. In ihrer Rolle als "Modellfabrik Migration" zeigen die Experten des IMMS unter anderem in Workshop-Reihen zu verschiedenen Schwerpunktthemen, wie sich Maschinen und Anlagen durch drahtlose und vernetzte Sensorik nachrüsten lassen und wie man damit Daten für die Entwicklung von innovativen Diagnose-, Wartungs- und Servicekonzepten ermitteln und verarbeiten sowie mit Cloud-basierten Diensten verknüpfen kann. Die Teilnehmer werden Schritt für Schritt angeleitet, mit universellen Elektronikplattformen für Industrie-4.0-Komponenten und mit Open-Source-Software erste Beispiele im Workshop zu bearbeiten. So wird unmittelbar deutlich, wie sich Lösungsansätze schnell und kostengünstig realisieren lassen.
Neben den Workshops hat das IMMS als M4.0-Akteur auch Stammtische mit Führungen und Präsentationen von Demonstratoren zu verschiedenen Industrie-4.0-Themen organisiert. Dort wurden eigene Ansätze vorgestellt, aber vor allem auch externe Referenten ins Boot geholt, um breite Diskussionen von Anforderungen über Sensoren bis hin zu datenbasierten Services und zugehörigen Geschäftsmodellen anzustoßen. Darüber hinaus hat das IMMS als "Modellfabrik Migration" individuelle Informationsgespräche mit Firmenvertretern durchgeführt und das Kompetenzzentrum auf weiteren Veranstaltungen, wie z.B. Messen, präsentiert.
Diese Angebote nutzten viele Unternehmen, um gemeinsam Ideen in die Tat umzusetzen oder die Planung dafür anzustoßen. So wurde bereits im Sommer 2017 durch ein Firmenkonsortium und dem IMMS eine neuartige Wasserdesinfektionsanlage mit Cloud-Anbindung in der Ilmenauer Schwimmhalle in Betrieb genommen. Darüber hinaus wurde 2017 ein Vorhaben gestartet, um für Zerspanungsmaschinen notwendige Betriebs- und Umweltparameter mit Sensorik vollautomatisch, kontinuierlich und in Echtzeit in einer Qualität zu überwachen, die bislang nur in Großbetrieben wirtschaftlich realisiert werden konnten. Andere Ideen, wie z.B. für das kontrollierte und energieeffiziente Anfahren von Maschinenparks, wurden ebenso angestoßen. Weitere Lösungsansätze werden derzeit von Workshop-Teilnehmern vorbereitet und diskutiert.
IMMS alias "Modellfabrik Migration" unterstützt Thüringer Wirtschaft
"Wir erforschen am IMMS mit Partnern aus Wissenschaft und Industrie anwendungsbezogene Grundlagen, unter anderem zur Automation, Steuerung und Regelung von Maschinen und Industrieanlagen," erklärt Prof. Dr. Ralf Sommer, wissenschaftlicher Geschäftsführer am IMMS. "Die Erkenntnisse transferieren wir nicht nur in marktnahe Lösungen für die Thüringer Wirtschaft in etwa 50 bis 70 Verbundprojekten im Jahr mit Entwicklungsleistungen, die kleine Unternehmen allein nicht stemmen können. Wir heben seit jeher die Betriebe der Region auch auf den Stand der Technik, zum Beispiel durch Workshop-Angebote und Netzwerkaktivitäten. Mit dem Kompetenzzentrum werden diese Aktivitäten erheblich beflügelt und wir freuen uns über die Resonanz zu den Angeboten, die wir seit 2016 als Modellfabrik Migration kleinen und mittleren Betrieben machen können."
Wie es weitergeht
Das IMMS wird seine Aktivitäten im Kompetenzzentrum bis zum Auslaufen der Förderung im Herbst 2019 weiter kostenfrei anbieten können. Bis dahin wird das Angebot an Veranstaltungen erweitert, z.B. durch Stammtische zum Thema "Digitale Plattformen für die Zusammenarbeit in Wertschöpfungsnetzwerken".
Ramelow wird im Laufe der Woche weitere Akteure des Kompetenzzentrums besuchen, bei denen ebenfalls Systeme des IMMS im Einsatz sind. Die "Modellfabrik Prozessdatengenerierung und -transfer" bei der GFE – Gesellschaft für Fertigungstechnik und Entwicklung Schmalkalden e. V., die "Modellfabrik Produktionssteuerung" beim Förderverein für Anwendung und Bildung auf dem Gebiet Industrie 4.0 (fab-i4.0 e. V.) in Sondershausen sowie die "Modellfabrik 3D-Druck" an der Ernst-Abbé-Hochschule in Jena stehen auf Ramelows Plan der Sommertour #ZukunftThüringen.
The work of IMMS as "Smart Sensor Systems Model Factory" is funded by the German Federal Ministry for Economic Affairs and Climate Action (BMWK) in the "SME Digital Centre Ilmenau" under the reference 01MF21008C and continues the activities from the "Mittelstand 4.0-Kompetenzzentrum Ilmenau".
The "Mittelstand 4.0-Kompetenzzentrum Ilmenau" (centre of excellence in Ilmenau serving SMEs) was part of the funding initiative "SME 4.0 – Digital Production and Work Processes" which was funded by the German Federal Ministry of Economic Affairs and Energy (BMWi) within the funding programme "Digitising SMEs – Strategies towards digital Transformation of Business Processes". IMMS was funded under the reference 01MF16005C.
Related content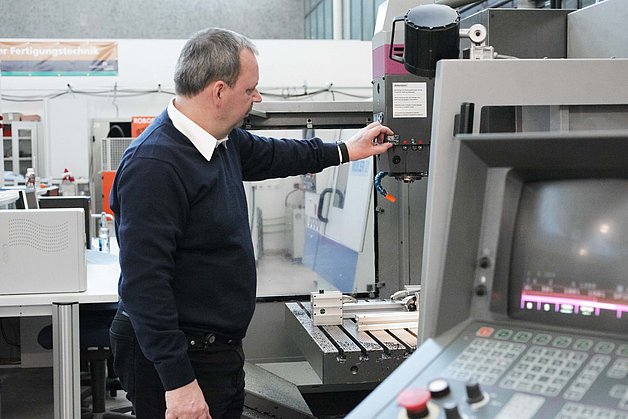 Project
Under the name "Smart Sensor Systems Model Factory" we are supporting enterprises in their gradual adoption of Industry 4.0 technology.
---
Contact
Further information
Back