Project SensInt
The IMMS is developing a CMOS image sensor for time-resolved fluorescence detection for direct integration into microfluidic cartridges using 3D screen printing.
High demand for point-of-care tests
The SARS-CoV-2 pandemic has not been the first time that the demand for solutions for rapid, patient-oriented diagnostics (point-of-care, POC) has grown strongly. To effectively stop the spread of infectious diseases, a dense testing regime has now been identified as a crucial tool in pandemic response. Microfluidics has already been established for years as the key technology in this field, with which very accurate results can be obtained on a molecular biological basis, e.g. by PCR. To be able to offer such systems smaller, more portable and, prospectively, cheaper, sensors for detection are increasingly being integrated into such microfluidic cartridges. On the one hand, there are adhesive solutions for low quantities, e.g. for prototyping, or solutions on the basis of injection moulding for very large quantities. For the intermediate range, which is important for development, clinical investigations and market launch, there is currently no satisfactory solution.
3D screen printing closes the technology gap
The project aims to exactly close this technology gap, which often becomes a "valley of death" especially for small and medium-sized diagnostic companies, by combining injection moulding, 3D screen printing and sensor technology. Using the example of a microfluidic cartridge for the molecular biological diagnosis of respiratory diseases, the entire technology chain will be demonstrated and generally applicable design rules for such integration will be developed. The challenge lies in integrating manufacturing technologies from a wide variety of fields and materials, such as thermoplastics, elastomers and silicon. This will make it possible to produce such POC tests faster and cheaper in the future.
Image sensor for integration into microfluidic cartridges
IMMS will research and prototype an optical sensor system for microfluidic fluorescence applications. This system comprises a CMOS image sensor specially developed for integration into a microfluidic cartridge, which, in addition to the optical detection elements, the photodiodes, also contains the required electronic control and readout circuits, as well as an electronics unit adapted for this image sensor, with which the image sensor can be operated.
Acronym / Name:
SensInt / Sensor integration in microfluidic point-of-care cartridges – production technology solution to an unsolved problem
Duration:2021 – 2023
Application:
|

time-resolved fluorescence measurement

|

in-vitro diagnostics

|

microfluidics
Research field:Integrated sensor systems
---
Related content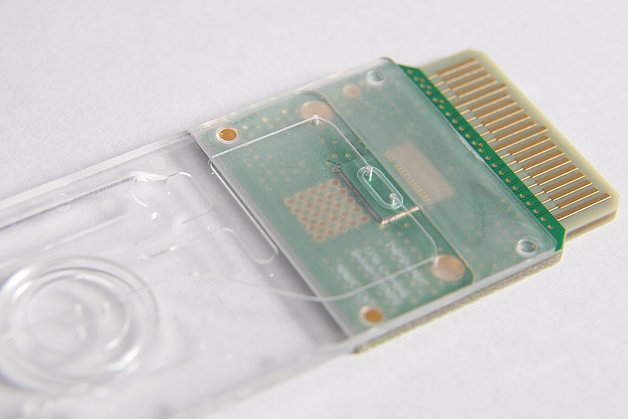 Event,
Industry Innovation Dialogue: New paths in microelectronics – diversification for more resilience
---
Contact
---
The SensInt project was funded as part of the European Union's response to the COVID-19 pandemic through the European Regional Development Fund (ERDF-OP 2014 – 2022) under the reference 2021 FE 9072.
---
This might also be interesting for you
Back