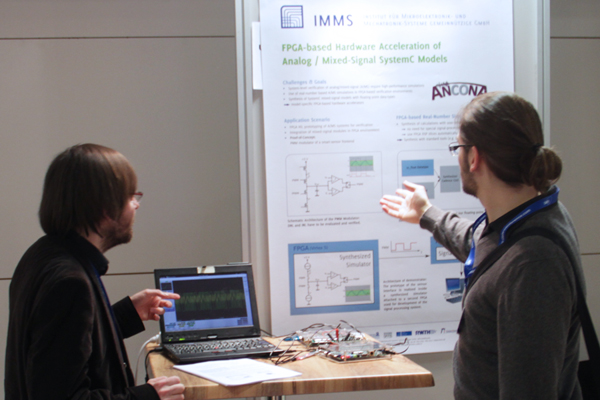 Am IMMS finden bis auf weiteres keine Veranstaltungen statt. Wir informieren Sie rechtzeitig über Terminverschiebungen.
ISCAS 2020
11.10.2020 – 14.10.2020
Light-Controlled Photometer with Optoelectronic CMOS Biochip for Quantitative PSA Detection
Alexander Hofmann1, Michael Meister1, Alexander Rolapp1, Peggy Reich1, Friedrich Scholz2 and Eric Schäfer1. 1IMMS Institut für Mikroelektronik- und Mechatronik-Systeme gemeinnützige GmbH, 2 Senova Gesellschaft für Biowissenschaft und Technik mbH
We present an integrated optoelectronic CMOS biochip based photometer for quantitative immunoassay diagnostics. The application-specific integrated circuit (ASIC)includes a 6 x 7 CMOS sensor array with 100μm x 100μm photodiodes acting as signal transducers. The ASIC was designed in a standard 0.35-μm CMOS technology without expensive post-CMOS processes. The principle of the photometer is based on light-absorption measurement. The implemented light control reduces start-up and settling time of the light source to 30 seconds, enables fast starts of measurements and reduces overall measurementtimes. With this approach, we demonstrate for the first time the quantification of prostate-specific antigen (PSA) using an optoelectronic CMOS biochip. A PSA immunoassay is performed on the top surface of the CMOS sensor array, enzyme kinetics and PSA concentrations are measured within 6 minutes with a limit-of-detection (LoD) of 0.5 ng/ml. The LoD meets the requirement for clinical testing, since the cutoff level of PSA is 4 ng/ml. Additionally, we achieve an overall run-to-run coefficient of variations (CV) of 7% which is good compared to other point-of-care (PoC)systems.