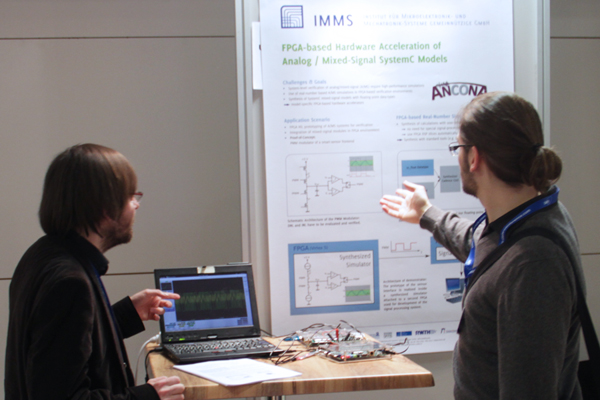 Am IMMS finden bis auf weiteres keine Veranstaltungen statt. Wir informieren Sie rechtzeitig über Terminverschiebungen.
ICM 2021
07.03.2021 – 09.03.2021
Picometer-Scale Positioning of a Linear Drive System via Feedforward-Feedback Control. Alex S. Huaman1, Michael Katzschmann1, Steffen Hesse1, Christoph Schäffel1,Christoph Weise2, Denis Dontsov3, Eberhard Manske2 and Johann Reger2
1IMMS / 2Technische Universität Ilmenau, 3SIOS Meßtechnik GmbH
This work deals with the controller design of alinear drive system with potential applications in picometer-scale positioning. The displacement is measured using a high-precision differential plane-mirror laser interferometer. However, this measured signal must be filtered for control purposes and performance validation. For tracing picometers, we adopt a model-based 2-DOF control architecture with a feedforward stage for model-following and a feedback stage for stabilization and compensation of constant disturbances. A straightforward way to deal with noise is to use a feedback controller based on estimated (and filtered) states, which can be generated by a Kalman-Bucyfilter. The effectiveness of the presented control strategy is verified via real-time experimentation, where the overall control scheme allows positioning in the picometer level. Moreover, comparative tests in the frequency domain were conducted using the so-called PI-LQR feedback controller based on estimated states.