KI-Entwicklerstammtisch
Date, Type of contribution, Location:
–
13.04.2021,
Lectures
,
online
Event:
Immer am zweiten Dienstag im Monat. Veranstalter: Mittelstand 4.0
Description:
Prediction of tool wear using vibration measurements and AI / Vorhersage von Werkzeugverschleiß mittels Schwingungsmessungen und KI. Vortrag (auf Englisch) am 13.04.2021 von 14:00 – 15:00, Umut Onus, Wolfram Kattanek.
Für das Monitoring von Maschinen, Werkzeugen und Prozessen in der Zerspanung werden Sensor-Daten mit nachgerüsteter Schwingungs-Sensorik erfasst, verknüpft und ausgewertet. Neben Infos in Echtzeit zum Ist-Zustand sind Prognosen zu Verschleiß, Wartung und Reststandzeiten der Werkzeuge möglich. Welche Schritte notwendig sind, um die Messdaten für KI-Modelle vorzuverarbeiten, erfahren Sie zum Stammtisch.
Der KI-Entwicklerstammtisch ist immer am 2. Dienstag im Monat: Entwickler stellen eine konkrete KI-Lösung aus verschiedenen Perspektiven vor: Algorithmen- und Modell-Entwickler sowie Software- und Hardware-Entwickler. Sie erhalten Einblicke in die technische Umsetzung von KI, können regionale Akteure zum Erfahrungsaustausch kennenlernen und eigene Themen einbringen. Wir laden Sie herzlich ein!
Darüber hinaus unterstützen KI-Trainer von IMMS und TU Ilmenau im Mittelstand-4.0-Kompetenzzentrum Ilmenau die Planung und Konzeption von KI-Implementierungsmaßnahmen.
Related content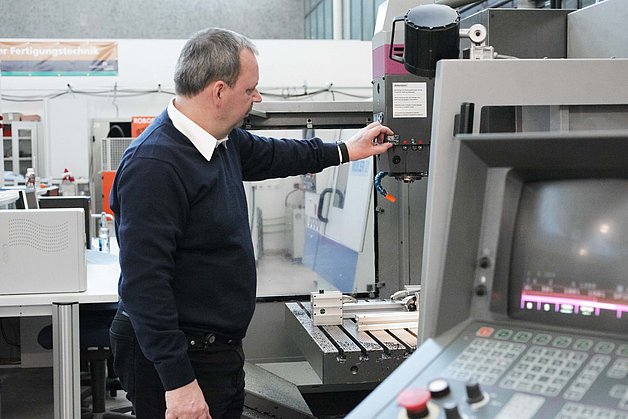 Project
Under the name "Smart Sensor Systems Model Factory" we are supporting enterprises in their gradual adoption of Industry 4.0 technology.
---
Contact
Back