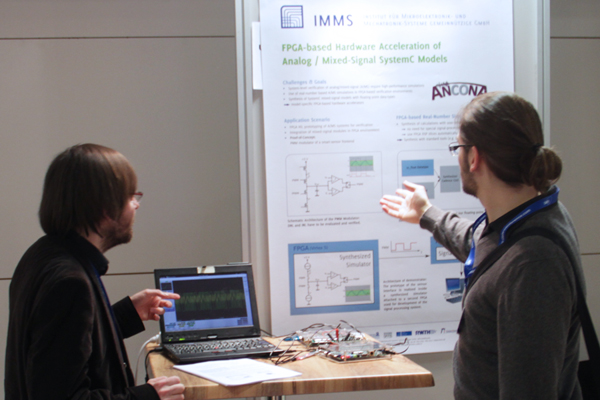 Am IMMS finden bis auf weiteres keine Veranstaltungen statt. Wir informieren Sie rechtzeitig über Terminverschiebungen.
Analog 2020
28.09.2020 – 30.09.2020
Ain't got time for this? Reducing manual evaluation effort with Machine Learning based Grouping of Analog Waveform Test Data. Tom Reinhold1, Marco Seeland2, Martin Grabmann1, Christian Paintz3, Patrick Mäder2, Georg Gläser1.1IMMS, 2Technische Universität Ilmenau, 3Melexis GmbH.
Error patterns in measurement data of mixed-signal integratedcircuits and MEMS are classified manually so far. The authors present a new method with ML algorithms for automatic grouping of similar failure scenarios. In a case study with an industrial testdata set the efficiency could be improved by a factor of 14.
Entwurf, Evaluierung und Optimierung von HF- und UHF-RFID-Sensorsystemen. Björn Bieske, Tom Reinhold, Jun Tan.
RFID is established for contact-free identification in many areas. The combination of wireless energy and data transmission with low-power sensors opens up a wide range of possibilities for new applications. The evaluation and optimization of such sensor systems creates new demands on measurement technology. Based on special RFID readers and laboratory measuring devices, it will be shown how a universal measuring station for complex measuring sequences on RFID transponders with sensor connection can be set up using standard PXI modules.