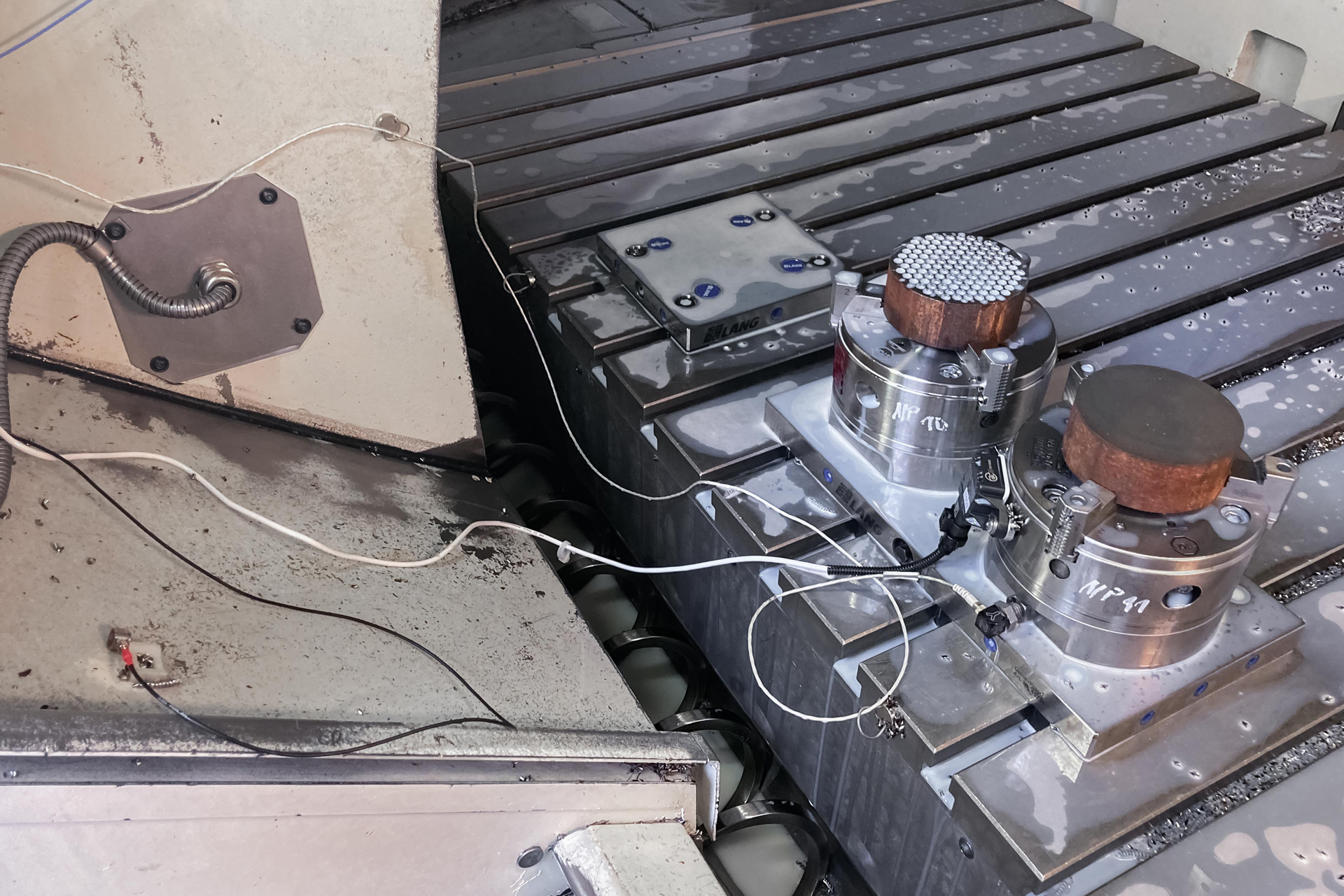 KIQ
AI-based quality assurance
Recognising and eliminating actual wear instead of prematurely changing tools
To ensure consistent quality in machining and to avoid unplanned machine downtimes as well as rejects due to worn tools, these are replaced regularly. Depending on the boundary conditions, however, wear can vary by up to 50%. Therefore, the tools are usually changed far before the end of their service life, which leads to additional costs.
Although the wear of the tools can be determined at special test stations with optical and tactile measuring methods. But since this is too time-consuming in practice, the tools are usually replaced at fixed intervals. With a new approach, the wear can be determined using various measured variables during machining. Together with its partner GFE, IMMS has implemented an AI-based, retrofittable and cost-effective solution for this purpose.
In principle, the measurement data of the sensors already integrated in the spindle, such as current or vibration sensors, can be accessed for this purpose on newer machines. However, they cannot be used to their full extent and in real time. This is currently only possible with retrofittable solutions.
AI-based retrofittable and cost-effective solution for quality assurance of drills in machining
In the project, IMMS retrofitted a precision machining centre for the project partner with vibration sensors and a compact processing unit close to the machine with integrated AI. With this, the vibrations occurring during drilling in different frequency ranges were recorded simultaneously at several points in the machining area and used as training data for a software based on machine learning. This is capable of both estimating the current state of wear and predicting the remaining useful lifetime (RUL) of the tool.
Data is collected using 3-axis accelerometers on the spindle housing and the workpiece fixture. To reduce the amount of data and derive specific features, the signals are first preprocessed with various operations. The AI model was trained with the data from several measurement series based on an artificial neural network. The signal preprocessing and the trained AI model can be executed in real time in a compact box directly on the machine. The result can be provided directly at the machine both as a predicted remaining tool life and as a classified wear condition of the tool.
The work on KIQ is a sub-project in the "Mittelstand 4.0-Kompetenzzentrum Ilmenau".
Funding

The "Mittelstand 4.0 – Kompetenzzentrum Ilmenau" (centre of excellence in Ilmenau serving SMEs) is part of the funding initiative "SME 4.0 – Digital Production and Work Processes" which is funded by the German Federal Ministry of Economic Affairs and Energy (BMWi) within the funding programme "Digitising SMEs – Strategies towards digital Transformation of Business Processes". IMMS is funded under the reference 01MF16005C.