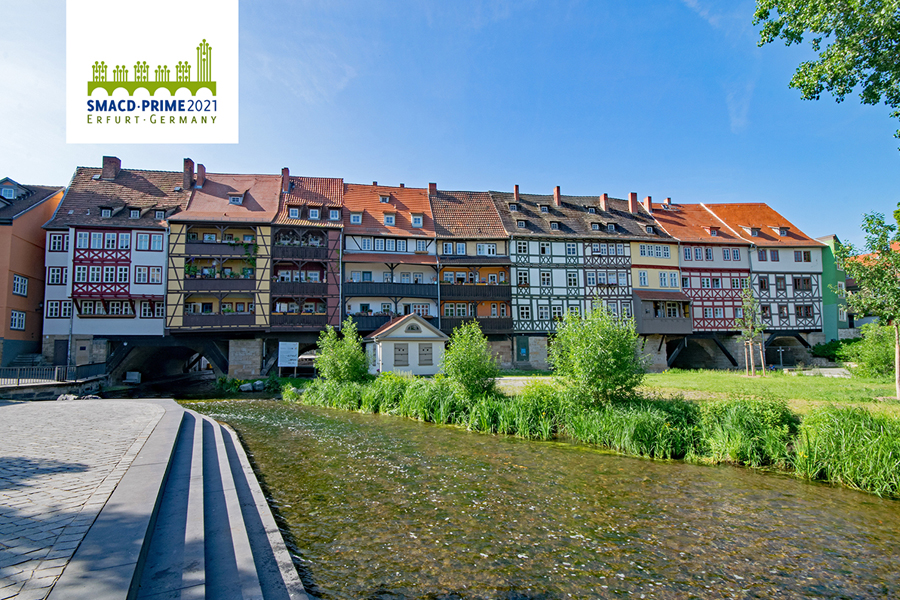 International conferences on methods for the design of integrated circuits
Erfurt, 20 July 2021. From 19 - 22 July 2021, mainly European experts take part in two international conferences on methods for the design of integrated circuits (SMACD) and on research by doctoral students in microelectronics and electronics (PRIME). The events, which were launched in 1991 and 2005, invite scientific exchange on application-oriented developments at changing, mainly European, locations. This year they are jointly organized by IMMS Institut für Mikroelektronik- und Mechatronik-Systeme gemeinnützige GmbH (IMMS GmbH), Technische Universität Ilmenau, RWTH Aachen and the Informationstechnische Gesellschaft (ITG) of the VDE Verband der Elektrotechnik Elektronik Informationstechnik e. V. (Association for Electrical, Electronic & Information Technologies). For safety reasons, the conferences originally planned in Erfurt take place in virtual form.
Conferences should inspire young talent beyond the topics to Germany
"Young professionals traditionally provide many topics for both conferences and regularly make up about half of the audience. The feedback from the community is an enormous incentive for them and shows them new perspectives for their work," explains Univ.-Prof. Dr.-Ing. Ralf Sommer, General Chair of SMACD 2021, Scientific Managing Director of IMMS and Head of the Department of Electronic Circuits and Systems at TU Ilmenau. "At the same time, we would naturally like to take the opportunity to focus on Germany as their future center of work and life," Sommer continues. He personally looks to Erfurt as a microelectronics location, Thüringen's university and research landscape and institutes such as IMMS, in which the specialists of tomorrow are involved in practice during their studies and enabled for a career start in industry and applied research. Here, as in Germany as a whole, it is important to strengthen and expand microelectronics competencies in order to remain internationally competitive with safe and reliable chip developments, sufficient production capacities and, above all, with well-trained specialists.
Broad range of topics and agile formats for new ideas in microelectronics
211 authors from 21 countries submitted 72 papers for the SMACD conference, and for the PRIME conference 69 topic proposals were submitted by 237 people from 19 countries, in each case mainly from Europe. About two thirds were able to convince the committees in each case, ensuring a diverse range of topics over the four days. In particular, it is about how new methods for synthesis, modelling, analysis and simulation can be used to make the design for increasingly complex microelectronics chips more efficient and safer. Main foci include machine learning, wireless communications systems, biomedical circuits and the energy supply of integrated circuits, for example through energy harvesting.
In the keynote contributions, Jörg Doblaski, CTO of X-FAB, will talk about the challenges and opportunities of future applications in the automotive, medical and industrial sectors. Marco Seeland from Ilmenau TU will give an overview on machine learning for the design and characterization of microelectronic systems. In addition, the program includes eight tutorials on topics such as electronic design automation, quantum computing, printed electronics, and neural networks for embedded systems. They are offered by Fraunhofer IIS/EAS Dresden, Forschungszentrum Jülich, RWTH Aachen University, University of Glasgow, Cadence Design Systems Germany, Brandenburg University of Technology, OFFIS e.V. Oldenburg and Reutlingen University, among others. In addition, IMMS, Ilmenau TU, Cadence, the University of Oldenburg and OFFIS - Institute for Computer Science are organizing a BarCamp for electronic design automation. There, all participants determine the topics, agenda and formats and thus contribute to a lively exchange in an unconventional "unconference", which has some overlaps with agile R&D formats in industry and often leads to new ideas and joint projects.
Central link between science and practice
"Scientific support and mentoring in universities, reviewer feedback in conferences such as ours, and the associated IEEE publications are, of course, an important pillar in the promotion of young researchers," says University Professor Dr.-Ing. Stefan Heinen, General Chair of PRIME 2021 and holder of the Chair of Integrated Analog Circuits and the Institute of Semiconductor Technology at RWTH Aachen University. Furthermore, it is essential to introduce young professionals to practical challenges at an early stage and to show them real-world perspectives in the electronics industry. "To this end, we offer a comprehensive theoretically well-founded and application-oriented education at RWTH Aachen University. Our students design and implement innovative circuits from the fields of RF systems and integrated power electronics." For SMACD and PRIME, he sais, sponsors Cadence, X-FAB, Europractice, Infineon and NXP don't just give money to make the conferences happen. "Here, it's mainly about content and exchange on concrete topics that run in the lectures and are directly mirrored by the industry."
Erfurt – digital and analog
The semiconductor industry, microelectronics and microsystems technology, which is currently being expanded in Erfurt, is also the subject of the video message with which Erfurt's Mayor Andreas Bausewein addresses the participants at the start of the two conferences. Many thousands of people have worked in microelectronics in Erfurt since the 1970s and many still do today. "My hope is that microelectronics will continue to grow in Erfurt and that even more young people will find their future here in the city and in this professional field," says Bausewein. To this end, he also refers to the quality of life in Erfurt. On the sidelines of the digital conference, the live broadcast of the city tour provides insights into the medieval old town, which is considered the largest area monument in Germany. Bausewein is optimistic that many will find their way to Erfurt after the conference and in a completely analog way – and want to stay.
Sponsors:
Cadence
X-FAB Silicon Foundries
Europractice
Infineon
NXP
Technical Sponsors:
Institute of Electrical and Electronics Engineers
The IEEE Circuits and Systems Society
The IEEE Council on Electronic Design Automation
Institutional Sponsors and Organizers:
Information Technology Society (ITG) of the VDE Verband der Elektrotechnik Elektronik Informationstechnik e. V. (Association for Electrical, Electronic & Information Technologies)
IMMS Institute for Microelectronic and Mechatronic Systems gemeinnützige GmbH (IMMS GmbH)
Ilmenau University of Technology
Erfurt Tourism and Marketing GmbH