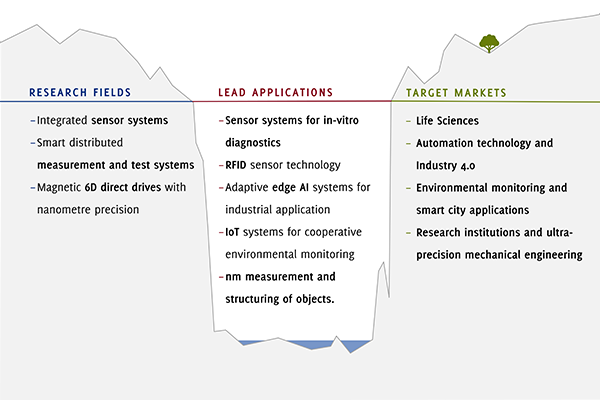 As a research institute that has evolved over many years, we at IMMS have built up a wide range of experience in manifold projects and topics. On this basis, we have readjusted our target markets and sharpened our research fields. The connecting link is our lead applications, which thus form the bridge between research and application or market: We conduct research to harness cutting-edge results from science for industry. Through application-oriented developments we strengthen industry's competitiveness with innovations. Developments with industry in turn reveal the need and challenges for novel approaches, which we address in our research fields.
Research fields
We have bundled our research activities in the three research fields of integrated sensor systems, smart distributed measurement and test systems and magnetic 6D-direct drives with nanometre precision. Further core subjects are grouped under each of these. The topics are interconnected and interdisciplinary, which is also reflected in the cooperation with research partners such as Ilmenau TU as well as with regional and national research institutions, technology providers and industry.
Core subjects
In our core subjects, we research specific focal points within a research field. In the research field "Integrated sensor systems", we investigate miniaturised systems manufactured in semiconductor technology consisting of microelectronic and/or microelectromechanical components for sensors applications. In the core subject CMOS-based biosensors, we are researching CMOS-integrated transducers and their interaction with biological receptors. For such and other highly complex integrated systems, we are researching AI-based design and test automation as another core subject to make the design and testing of these systems significantly more efficient and safer. In the research field "smart distributed measurement and test systems", for example, we are deepening the core subject of distributed IoT systems in order to create energy- and resource-optimised embedded systems, e.g. for the "Internet of Things" or self-sufficient sensor networks for environmental monitoring and smart city applications.
Lead applications – the bridge between research fields and target markets
Based on our research, we are developing sensor systems for in-vitro diagnostics, for example, which enable individual, decentralised health monitoring for everyone with electronic rapid tests. We are researching energy-efficient solutions for RFID sensor technology and for IoT systems to open up new applications for cooperative environmental monitoring and to make processes in industry more resource-efficient. We are researching solutions for adaptive edge AI systems to enable AI on low-consumption embedded systems in industry and to network them in real time. To be capable of manufacturing the ever-increasing complexity of these integrated systems on ever-smaller semiconductor surfaces, we are researching ever more precise drives for nanometre measurement and structuring of objects.