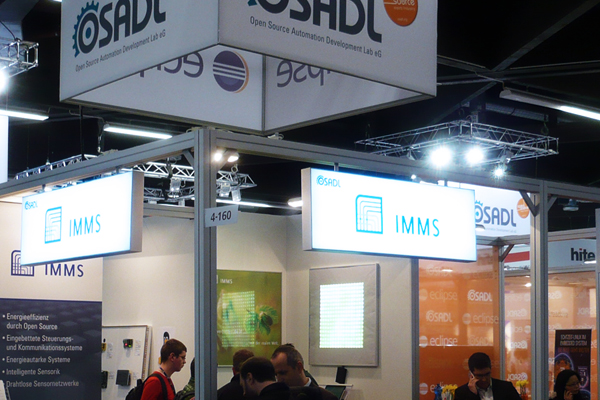 Wherever possible, the Institute draws in any technology available in the region to benefit its research, thus contributing to the networking between enterprises and intended to exploit to the full the innovation potential there is in SMEs. Furthermore, the Institute is active in initiating and forming cross-industry, cross-region and cross-country clusters and networks. IMMS engages in applications working parties and academic boards. The regular workshops offered by IMMS are motivated by the desire to transfer know-how to partners in the various networks and industry.
AMA Association for Sensors and Measurement

Cadence Academic Network

IMMS is Lead Institution in the Cadence Academic Network. The Cadence Academic Network was launched in 2007 by Cadence Europe. The aim was to promote the proliferation of leading-edge technologies and methodologies at universities renowned for their engineering and design excellence. A knowledge network among selected European universities, research institutes, industry advisors and Cadence was established to facilitate the sharing of technology expertise in the areas of verification, design and implementation of microelectronic systems. The goal of the Academic Network is to stimulate the use of leading edge technology and proliferate methodology at sophisticated and committed Universities and Research Institutes in Europe, Middle East and Africa (EMEA).

CCIT - Cross Cluster Initiative Thuringia

The Cross-Cluster-Initiative Thuringia is an association of active networks from different industries.

CleanAir Innovationsnetzwerk

Das IMMS bringt seine Kompetenzen in den Bereichen Sensorsysteme, Systemintegration und Kommunikation sowie Erfahrungen mit dem Aufbau und Betrieb von Sensorplattformen in das Netzwerk ein.

DFAM

DECHEMA

IMMS is a member of working group Medical Biotechnology of the Biotechnology Section of DECHEMA.

DiagnostikNet|BB

"In this network IMMS pursues the objective to develop point of care testing solutions with microelectronic systems."

EDA Centrum

edacentrum e.V. The putting together of R&D competences at German research facilities in the field of Electronic Design Automation (EDA).

ELMUG

EtherCAT Technology Group

The EtherCAT Technology Group is the forum in which key user companies from various industries and leading automation suppliers join forces to support, promote and advance the EtherCAT technology.

Automation devision

Forschungs- und Industriezentrum (FIZ e.V.)

Innovationsnetzwerk Alternative zum Tierversuch

Ziel des Netzwerkes ist die gemeinschaftliche Entwicklung innovativer Methoden und Produkte in den Bereichen der Toxikologie, Chemikalienbewertung, Arzneimittelsicherheit und Diagnostik, die Tierversuche ersetzen oder reduzieren können.
Website

medways – Branchenverband Medizintechnik/Biotechnologie

[Translate to English:]

Das IMMS bringt in medways seine Kompetenzen in der Erforschung und Entwicklung von anwendungsspezifischen integrierten elektronischen Schaltkreisen (ASICs) und Sensorsystemen für die quantitative Vor-Ort- und In-vitro-Diagnostik sowie für therapiebegleitendes Monitoring ein. Das biotechnologische Know-how der Partner ist der Start in die gemeinsame Entwicklung kundenspezifischer Systeme. Das IMMS unterstützt damit die Ziele von medways – innovative Produkte und Verfahren zur optimalen Diagnose und effizienten Behandlung von Erkrankungen. Website

Mittelstand 4.0-Kompetenzzentrum Ilmenau

Das Mittelstand 4.0-Kompetenzzentrum Ilmenau unterstützt insbesondere regionale mittelständische Unternehmen bei der Lösung von Fragestellungen und Anforderungen hinsichtlich Digitalisierung und Industrie 4.0.

OSADL

OSADL is the leading competence network providing services to use Open Source Software in industrial products.

PPA

Silicon Saxony e.V.

Network for the economy, science as well as consulting companies and service providers from the semiconductor industry.

Silicon Saxony, Divisions Applications

Silicon Saxony, Smart Systems & Internet of Things

Bundling of all competences and activities of the previous working groups "Cyber-physical Systems", "Smart Integrated Systems" and the focus group "IoT.

Thüringer Kompetenzzentrum Wirtschaft 4.0

Gemeinsam mit einem regional breit aufgestellten Expertennetzwerk agiert das "Thüringer Kompetenzzentrum Wirtschaft 4.0" als Multiplikator und sensibilisiert insbesondere kleine und mittelständische Unternehmen für digitale Prozesse.