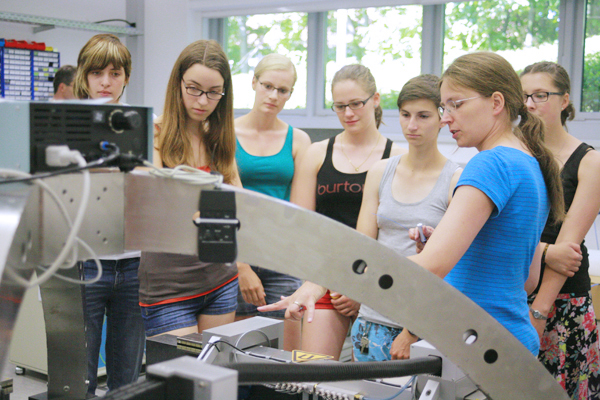 Encouragement of young academics
It is one of IMMS' highest priorities to bring on the new blood in science. The research staff at IMMS is active in pursuit of this goal, inspiring and supporting undergraduate and Master's students of the engineering sciences in particular by supervising internships and dissertations for BSc and MSc. The fact that the Institute networks so closely with industry provides the new generation of scientists with the opportunity to work on subjects of practical relevance where the results really matter. Thus, IMMS researches impart theoretic in-depth knowledge of methods for an early combination with a practical implementation in applications. For fundamental education purposes various lectures and seminars are hold by IMMS staff at Ilmenau University of Technology. Moreover, the Institute offers training courses and guided tours of the establishment. School pupils, too, are given insight into the work of IMMS by means of events and internships or by having their coursework supervised by professionals of the Institute.
Supervised disciplines
Young engineers from a variety of disciplines – biomedical, electrical or automotive, computer or mechanical engineering, mathematics, mechatronics and physics – are able to work on exciting scientific problems at IMMS and all receive individual supervision.
Topics
The current range of topics for supervised internships and dissertations for BSc and MSc can be found under the rubric Career.
Infrastructure for students

IMMS has its own internationally competitive infrastructure, fully meeting industrial norms, supporting the design of and experimentation on electronic and mechatronic systems, and underpinning its research work and the preliminary systems qualification processes. This equipment is available for students' work, too.

Figures

The fact that we have so high a proportion of students from Ilmenau University of Technology is an indication that our intensive efforts in fundamental education are in the habit of bearing fruit. We think this is why highly motivated, high-flying students find their way to IMMS, to our great delight.

On an average, each year sees 50 students working at IMMS either as interns or student research assistants or in association with the dissertations they are preparing for their BSc or MSc. Furthermore, there are five IMMS researchers currently pursuing doctoral studies at various universities.