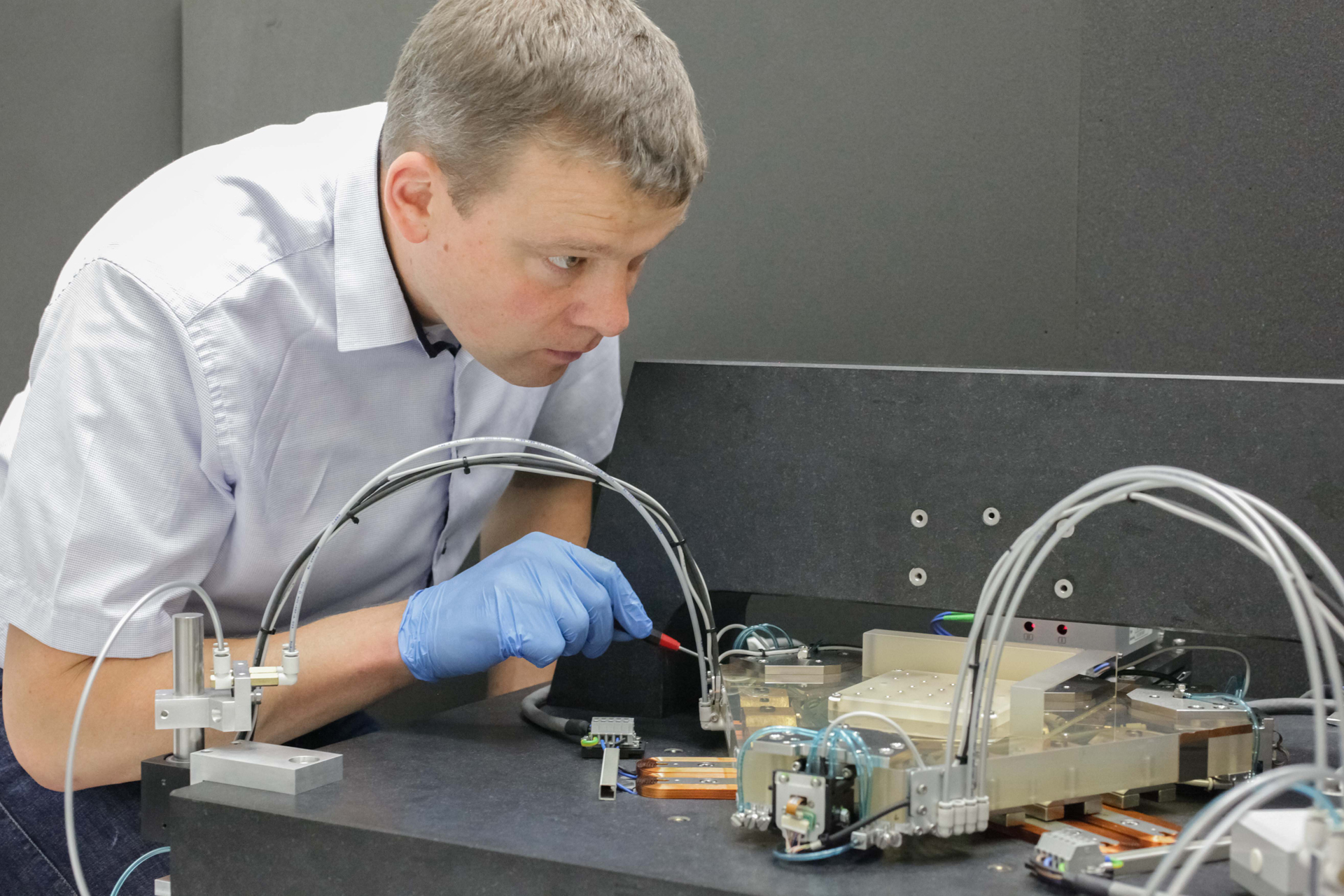 Voices from industry and academia
Dr. Denis Dontsov, SIOS Meßtechnik GmbH
"With our NMM-1 Nano-Positioning and Nano-Measurement Machine we have produced at SIOS Meßtechnik GmbH a system capable of measuring very small objects (up to 25 x 25 x 5 mm3) in 3D at a resolution as fine as 0.1 nm. The NMM-1 has a variety of operation modes enabling the position of the object to be changed or measurements to take place in either continuous scan or step mode. As it is equipped with various probe systems, many different sophisticated customer-specific tasks are possible, which may include the tasks of measuring precision parts like micro lenses, membranes or hardness testing indenters or of positioning, manipulating, processing and measuring objects in micro-electronics, micro-mechanics, optics, molecular biology or microsystems engineering.
In the INPOS project, for future applications which will require considerably larger working ranges, we have again put our faith in IMMS' expertise in nanodrives, continuing excellent collaboration with them that started more than 10 years ago. Joining forces also with Ilmenau TU, we have succeeded in developing a novel six-dimensional direct drive with air bearing, which can move objects sideways through a space of diameter 100 mm and up or down through a height of 10 mm with precision on the nanometer scale. IMMS developed the planar drive system with its lift and drive units and the open- and closed-loop control. We have also worked hand-in-hand with IMMS on the system architecture and the concept as a whole, collaborating on integrated design, construction, commissioning and characterisation of the system. We are more than satisfied with the result. The positioning results achieved clearly have high potential for resolving detailed enquiries from future customers and for new types of SIOS nanopositioning systems offering a significantly extended field of measurement. We feel we have a significant advantage over the usual commercial solutions in that we consistently use guide systems which are effectively friction free on all the axes of movement while at the same time integrating pneumatic compensation for gravity so that the inefficiency due to bearing the weight of the measured object is always reduced almost to zero.
The skills and professionalism available at IMMS, the extremely high quality assurance and the results themselves already speak volumes, but we also appreciate the systematic, task-focused culture of the colleagues at IMMS and not least the natural, communicative way they work with us. We should like to continue working closely with them in the future so that their system solutions continue to be included in products made at SIOS GmbH."
Dr. Denis Dontsov, Managing Director, SIOS Meßtechnik GmbH. Photograph: SIOS Meßtechnik GmbH.
www.sios.de