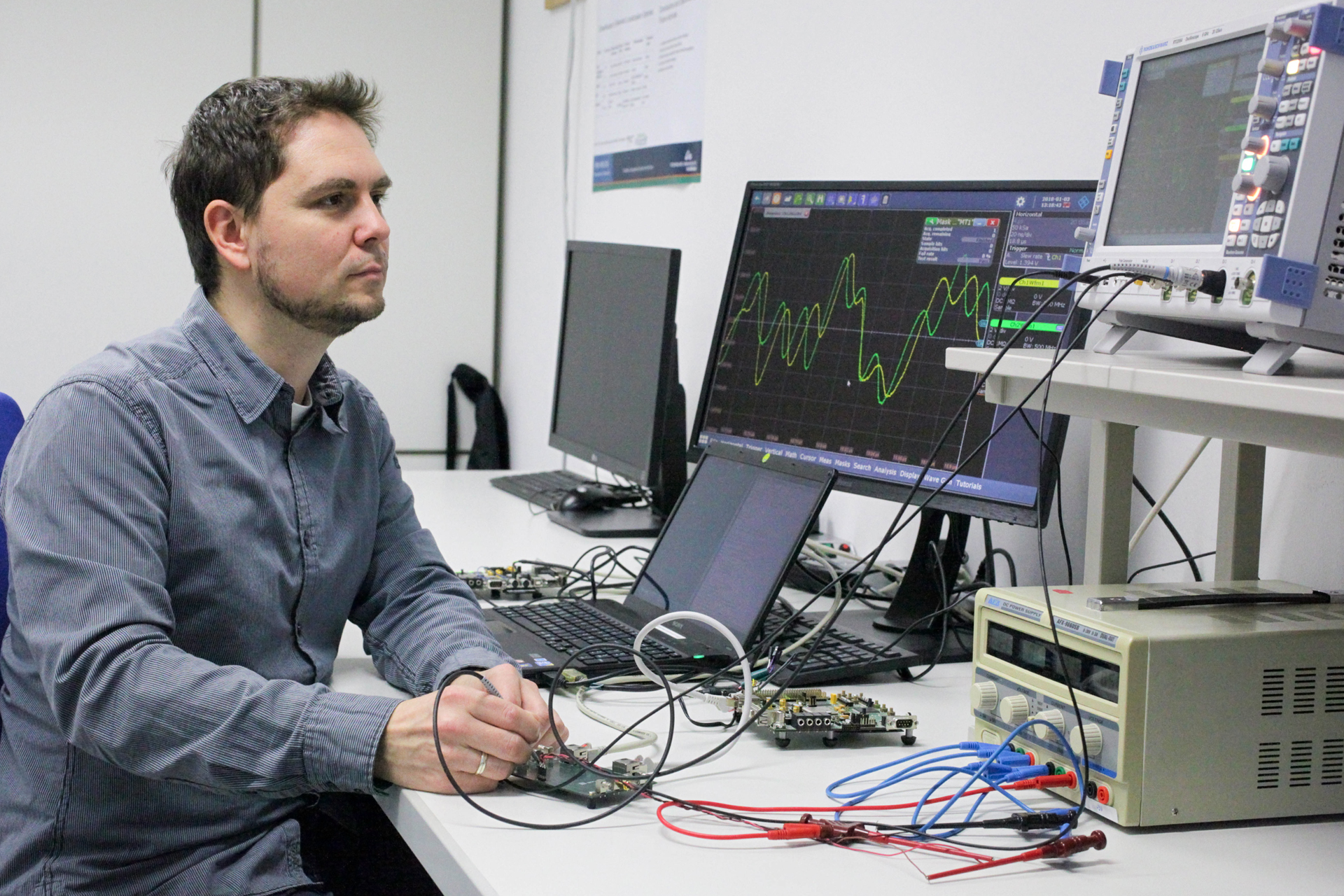 Ko²SiBus
Continuous and cost-effective signal monitoring for industrial bus systems
For networked systems, so far no continuous monitoring of communication lines
To ensure that highly automated processes run smoothly in industry, states and processes in machines and plant are subjected to permanent monitoring. But until now there has been no continuous monitoring of wired Ethernet-based communication lines for fast and secure data exchange and networking of industrial plant. The reasons are not only the large number of Ethernet cables, but also that most of these cables are concealed and difficult to access so that they will not obstruct production processes. Up to now, investigation of cable breaks and malfunctions has usually had to take place during machine downtime with the aid of additional measuring devices. The cables had to be detached from the system.
Target: trouble-free production through monitoring of wired communication lines
In the Ko2SiBus project, the idea is to minimise these downtimes and maintenance costs by joint work on solutions in collaboration with Chemnitz Technical University and Offenburg University of Applied Sciences. Thanks to the Ko2SiBus project, the signal quality of wired Ethernet-based installations will in future be continuously and cost-effectively checked during regular plant operation.
This should not only make it easier to plan maintenance work: The new concept should also make it possible to pass on the monitoring data via a uniform and open interface so that it can be easily integrated into customer-specific monitoring frameworks. The solution is to be retrofitted into existing systems, for instance as an Ethernet switch extension, and to be integrated as a feature directly into network nodes of Industry 4.0 systems.
IMMS plans circuits and builds a demonstrator
The role of IMMS is to design an embedded system and develop appropriate circuit concepts. Based on the know-how from developing sensor technology solutions for monitoring industrial plant, for example, in Ko2SiBus a system will be implemented that tracks physical signal parameters using integrated analogue and digital components and reports deviations to a monitoring centre. The functionality is to be tested with a demonstrator which will also be built by IMMS.
Funding

The Ko2SiBus project is funded by the DFAM (German Research Association for Automation and Microelectronics e.V.) via the AiF (German Federation of Industrial Research Associations) as IGF project by the Federal Ministry of Economics and Energy under the reference 19574 BG by a resolution of the German Bundestag.