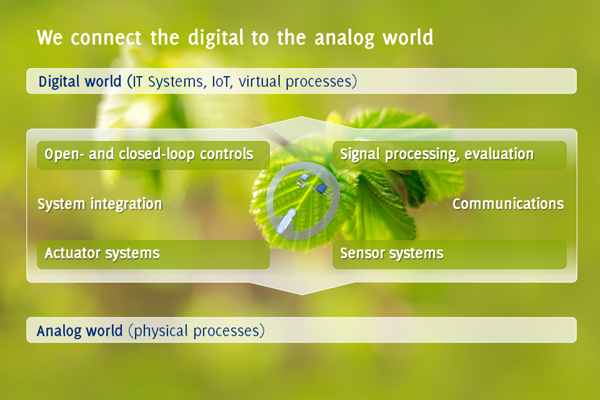 To connect the digital to the analog world, we design and implement smart electronic and mechatronic sensors and precision actuators, signal processing, automation and control solutions. We develop and optimize electronic, mechanical, and software components as well as data communication links for connecting embedded hardware/software systems to industrial IT environments.
We provide full R&D support from concept to production

We provide R&D support from concept to product development ranging from the design of mechanical and electronic devices and modules to hardware and software system integration services, prototype construction and transfer to industrial production:

Concept design and feasibility studies
Design, construction, and characterization of functional demonstrators and prototypes
System verification, test methodology development and test services
Access to innovative, certified manufacturing partners
Design according to industrial standards
Risk and quality management.

Our approach

We solve electronic and mechatronics systems design challenges with a focus on customer value, using a systematic, modelbased design methodology for heterogeneous systems involving multiple physical and IT domains. Taking into account non-ideal conditions such as temperature and process variation, we develop reliable, robust and energy-efficient solutions that can be customized easily for specific industrial applications.

Our methods and tools

CAD software such as Autodesk Inventor, supported by powerful design and simulation tools including MATLAB/Simulink, ANSYS, MAXWELL, Cadence, Coventor, and SystemC.
Simulation of static and dynamic electrical, mechanical, thermal and cross-domain coupling effects in electrical circuits, mechanical systems, and electronic devices using Finite Element Analysis, circuit & system simulation and behavioral modeling.
Performance optimization and design centering of devices, modules and systems under process variation and robustness constraints for minimization of resource requirements, elimination of critical resonance effects, and management of thermal behavior.